Apple Pay was launched in 2014 and has since become one of the most popular payment methods across the world particularly for users of Apple manufactured devices including iPhone, iPads, iPod Touch, iMacs, Macbooks, Apple Watch and more as it is a built-in app in all of those devices. In some cases Apple Pay is preferred over other payment options such as PayPal and Zelle Pay. Apple Pay includes the Apple Wallet which is a secure method for storing credit cards, debit cards, prepaid cards, gift cards and other forms of payment cards. Apple Pay users also have access to Apple Cash if they want to send and receive money from other Apple Pay users through text messages.
Why Apple Pay Is So Good For Purchases Made Online And In-Store
Apple Pay simplifies the checkout process by adding an extra layer of privacy and security on top of traditional credit cards and debit cards because it uses Apple's proprietary system for making and receiving payments. Apple Pay also removes a layer of complexity when making purchases online and saves the user the hassle of entering in their credit card or debit card information every time they want to make a purchase on a new app or website. It also helps to reduce fraud from these websites because of the trust that the Apple Pay API provides. If you are making a purchase using an iPhone, iPad, iPod Touch or Apple Watch, you can simply double tap or use fingerprint identification to complete your purchase. The most recently produced iMacs and Macbooks also have built-in touch identification for account security and authenticating purchases made online.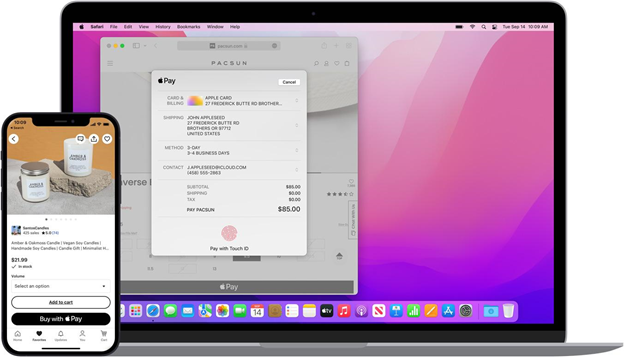 If you are purchasing groceries or shopping in-store then Apple Pay is also another simple way to checkout and complete a purchase thanks to the built-in NFC chip on Apple manufactured devices.
The Apple Card Gives Customers Access To Rewards And Cash Back Bonuses
Customers that sign up for the Apple Card with Apple Pay get 2% Daily Cash back on every purchase that they make in stores, online and in the app store. The Apple Card is a unique alternative to Apple Pay and allows customers to spend directly from their own Apple Pay balance. You are able to register an account with Apple Pay and request an Apple Pay directly from the app or from their website here: https://www.apple.com/apple-card/
The Apple Pay API Is Robust And Developer Friendly
With the iOS platform Apple has created one of the biggest and user friendly app marketplaces around the world and brings in more cash every year than its main competitor Google Play. Although Samsung and Amazon have made great strides over the recent years, Apple is still regarded as the king of online app marketplaces.
There are over 5 million apps on the Apple app store today and they all have the ability to easily access Apple Pay for processing payments. The Apple Pay API is developer friendly and it enables businesses, apps and even ecommerce stores all around the world with the ability to accept instant payments for purchases. Integrating Apple Pay into an app or ecommerce website has shown to significantly increase the average order amount and improve the conversion rate of purchases that the average user makes on a given app, marketplace or platform. Studies have shown that Apple Pay is fast becoming the de facto method of payment for high value individuals thanks to its user friendliness and security features.
Not only does Apple Pay work directly with Apple supported devices, but also they make it incredibly easy to accept the most popular payment method of all which is credit card and debit card.
What Fees Does Apple Pay Charge For Using Its Services?
Developers who plan to integrate Apple Pay into their own products and services can utilize the Apple Pay API free of charge. Implementing the Apple Pay API will require a developer however the pros outweigh the cons and doing so can drastically improve the overall customer lifetime value for a business model.
Users of Apple Pay can top up their wallet for free if they use a linked debit card or bank account and can make purchases for free using debit card, bank account or an existing Apple Pay wallet balance. Those who choose to add to their Apple Pay balance or make purchases using a credit card will incur a 3% fee.
Apple does not charge any fees whatsoever to Apple Cash users who are free to send money to each other at will at no cost.
Purchasing Bitcoin With Apple Pay
Although Apple does not directly sell bitcoin and cryptocurrency using Apple Pay as a payment method, Apple Pay has become a secure and popular method for purchasing bitcoin and other cryptocurrencies on various exchanges and marketplaces. There are numerous exchanges out there that accept Apple Pay as a payment method alongside credit card, debit card and bank account. Some of the most popular exchanges for doing so include Coinbase, Gemini, Coinmama, and Binance. Check out the list of best exchanges for buying bitcoin using Apple Pay here for the most complete guide to the subject.
For those who want to trade bitcoin through Apple Cash check out Paxful which is a peer-to-peer marketplace that makes it surprisingly simple to accept Apple Pay as a means of buying and selling bitcoin through its unique escrow system. Be forewarned that if you are buying bitcoin with Apple Cash you must do so with an existing Apple Pay balance or a linked debit card as bitcoin purchases made using a credit card could lead to your credit card becoming frozen or deactivated altogether. When trading online make sure that you know the identity of the other person involved and always perform due diligence when researching other peoples feedback scores to know whether or not they are legitimate.
Conclusion
Overall Apple Pay is not only a fast and secure method of payment for making purchases, and sending and receiving money, but also it incurs very few fees when using it. It is popular for this reason alone and has become the payment method of choice for Apple users all across the planet that we call home.